The Anthem String Quartet and Keltish have some exciting performances coming up in the next few weeks! Come on out for great music. We would love to see all of you, and you can pick up our CD if you like.

---
Chelle's CDs now available for purchase:
------------------------------------------
-- Keltish (Keltish) - Beautiful and fun Celtic music

-- 2 Do Beatles (Chelle Fulk and Robert Raines) - instrumental arrangements of 11 Beatles hits

-- The Brigantine (Pyrates Royale) - nautical folk, humorous and piratical

-- Island Time (Chelle Fulk and Peter Kudelich) - folk music from around the world, played on fiddle, guitar, and piano.

CDs are $15 each plus $2 shipping per ORDER. You can send a paypal payment, using the address: chelle_fulk (at) yahoo.com. All CDs are also available at any of the above performances. Keltish CD is also at CDBaby: http://cdbaby.com/cd/keltish

Thanks for your support of my musical adventures! I hope our paths cross soon!
Get invited to a Wedding!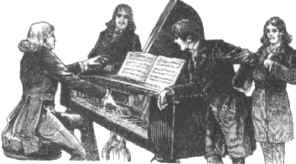 Anthem's musicians are busy playing for weddings, ceremonies, receptions, and a panoply of private functions. If you always wished you could hear how our quartet would sound at a wedding, your wish has come true. We stage mock-weddings and open-rehearsals on occasion, at which you can witness how our array of selections will enhance your ceremony or event.
Email info@musicbyanthem.com if you'd like to be put on the invitation list for our next event.