When you choose Music by Anthem, you are choosing musicians who love what they do and sincerely value your satisfaction. You are assured of inspired performance and outstanding service, a combination that makes Music by Anthem your best entertainment value.
Anthem understands the importance of your event, whether an intimate gathering or a large celebration. We set the perfect musical mood, no matter the size or purpose. You are free to relax, enjoy the music, and enjoy the occasion along with your guests.
Excellent Musicianship
Anthem's musicians are experienced professionals who also perform with many DC-area bands, orchestras, and theaters. Their talent and versatility are reflected in the variety of instruments and enormous range of musical styles each of them has mastered. More than excellent musicianship, Anthem's musicians deeply understand and profoundly respect their music. They constantly seek opportunities to expand their musical knowledge and experience.
Vast and Varied Repertoire
Anthem's repertoire contains thousands of pieces of music -- and continues to grow. Our styles include everything from classical to Celtic, to jazz, to Broadway, Disney, and pop tunes. We have performed at and enhanced, weddings of African, Jewish, Irish, and other traditions. We have also compiled and performed complete programs of Scottish, Irish, Latin American, and Swedish music. Whether it's music from America, cultures throughout the world, something traditional or non-traditional for your wedding processional, or even original music our songwriters create especially for you -- Anthem can provide it.
Variety and Flexibility
Anthem lets you choose the group composition you wish. Do you need a vocalist, a solo musician, a string trio, or a string quartet with a trumpet for a little fanfare? Anthem works with you to give you the kind of musical experience you desire.
Unique Continuous Live Music
Anthem offers you the option of continuous live music. Anthem is the only DC area ensemble whose musicians perform throughout the entire agreed-upon time, part of our commitment to you. Our Continuous Live Music policy frees you from the distraction of filling awkward breaks with recorded music.
Even a DJ!
Anthem has a DJ on staff! Sometimes, as lovely as live music is, you would rather dance to the songs the way you remember them, and for that, you want recorded music. We are happy to provide an excellent DJ ready to play the music you want, the way you want it.
Complimentary Consultation Services
Anthem offers free consultation and planning services. Need help with the details? We are ready to assist you. Be as involved as you want, or let us do all the work. It's your choice. We would also be happy to recommend other event-professionals to you, if you wish.
Attention to Detail
Anthem's meticulous preparation and care ensure your satisfaction. Anthem is not an agency. When you call us, you're talking with your musicians, and we take great pride in what we do. Our goal is to create a wonderful experience musically, one that enhances the occasion, one that you and your guests will enjoy and remember with happiness. You can put your trust in us with confidence and peace of mind.
Affordable Value
Anthem is affordable. Since you're dealing directly with the musicians, there are no agency fees. We offer more for less -- Excellent Musicianship, Vast Repertoire, Versatility, Flexibility, Unique Continuous Live Music, a DJ on Staff, Complimentary Consultation Services, Attention to Detail -- and most importantly, our commitment to you to do our part in making your affair a delightful experience.
We invite comparison. We believe you will agree that Music by Anthem is, without question, your best entertainment value.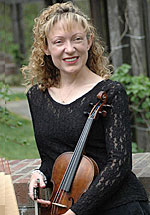 Chelle Fulk, owner and operator of Music by Anthem, is a multi-talented, highly versatile musician. Although Chelle refers to herself as a "fiddlist" -- part fiddler, part violinist -- she is also an accomplished violist and singer, and loves playing the electric 5-string fiddle. She entertains instrumentally or vocally at nearly all of her company's performances. She especially loves playing for dancers, singing, and recording. Her CDs include "Island Time", "His Harp's Desire", and several works-in-progress.
Chelle officially founded Music by Anthem in 1994, having formed its genesis with the Fauquier String Quartet in high school. After concentrating on the viola during college, she combined her love of music with her love of running businesses, and developed a musical organization capable of performing in a wide range of venues, from very intimate settings to large celebrations. She hired professional musicians whose versatility with various musical styles and instruments complemented each other, and whose interests enabled the company to bring about its tremendous repertoire. Her interest in Celtic music has led her to research, and share with audiences, the folklore of the British Isles, adding another dimension to her performances. She actively explores new musical interests, and looks for opportunities to expand Anthem's services.
Her wide-ranging interests encompass art in the romantic realism style, color photography, travel, reading science fiction, philosophy, hiking, and outdoor sports. She also has a passion for unusual instruments, and, like most musicians, is prone to spend the rent money on musical toys.
We want to help you have a carefree, festive and memorable time. We invite you to come see us and hear us play. Open rehearsals are held in Reston and Vienna VA. Come, enjoy an hour of music, meet the musicians, ask lots of questions. Just call for our open rehearsal schedule. Or, if you prefer, see our performance schedule to hear us at one of our public appearances.
Listen to WAGE Radio's
five-minute interview with Anthem!
(MP3 format)